My name is Matt Eickman, and I am the owner of Abra Kadabra. We began operating out of Mound in 2015 as a family owned and operated company with two employees. In six short years we have grown to 13 employees and gained a wildlife division and a shop. This growth was made possible by our amazing team, and by our community. Now is our chance to give back.   
Abra Kadabra Sponsors Spirit of the Lakes Festival
Abra Kadabra is proud to announce that we have the privilege of being a platinum sponsor for the 2021 Spirit of the Lakes Festival at Surfside Beach in Mound, right next door to our shop. We are excited to see our community able to gather, celebrate our wonderful community and enjoy the outdoors we all cherish. Free bottled waters will be available at our booth, as well as interesting displays, giveaways, and a raffle. A member of management will also be available to answer any burning pest or wildlife questions you might have. 
The Spirit of the Lakes Festival was first held in 1987, and was called "Mound City Day," held in downtown Mound. The festival disappeared from 2000-2006, and was resurrected in 2007 by community leaders. This two day event is organized by an amazing group of volunteers and is run by Spirit of the Lakes Festival, Inc. The organization's sole purpose is to organize this community festival each  year. This summer's event will be held July 16 and 17 at Surfside Park in Mound. Bands, a DJ, a kids activity tent, a parade, a business showcase, and a vendor showcase will all be included in this free-to-attend event. The event itself is a testament to how amazing our community is and it demonstrates how amazing collaboration can be amongst community members. 
About Abra Kadabra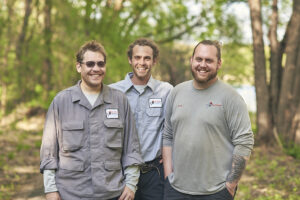 Abra Kadabra is a second-generation family-owned business that has been in operation since 2005. It was founded by my father-in-law, named by my wife and two of her sisters, and handed down to me in 2017. We hired my brother Andrew that year, and he helped me form the wildlife division and exclusion service in 2018. In 2019 our business began it's rapid growth with the hiring of five additional employees, and the growth has remained constant since. Spring of 2020 saw the purchase of our first commercial building, the old Mahogany Bay building, and we have really grown into it in the short time we have been there. 
COVID-19 changed a lot of things for local companies and organizations, including the ability to use community events for fundraising purposes. Dan Zellner, the owner of Surfside Bar and Grill, went above and beyond by organizing charity golf events the last two years to raise funds for our local Mound Volunteer Fire Department Relief Association. That organization has traditionally received much of it's funding through the annual Fish Fry and Dance, which were cancelled for COVID. Our local fire department is made up of volunteers who give up some of their time with their families to ensure all of our families can remain safe as we enjoy Lake Minnetonka and all it has to offer. This charity golf event is just one example of how our community came together during the global pandemic, as it has in times past and will certainly do again.  
Giving Back to the Mound Community
I have spent time reflecting on the journeys both my family and our business have taken since relocating to Mound, a place we've come to call home. This place and this community have shown us how incredibly strong a community can be together, how much neighbors can help neighbors, and how incredible an opportunity it is for our children to be raised here. We have a rich blend of people, tons of activities and opportunities, and events that bind the community together each year. My wife and I believe it is incredibly important to give back to the community that has been so good to us – both Mound and the greater lake community. 
We are thankful for all of the support that we received from homeowners and local businesses from our local community. It is our pledge to continue to give back to our community through Adopt a Highway, the Polar Plunge, Spirit of the Lakes, the Firefighter's Fish Fry and Dance, youth sports sponsorships and other community events.
We hope you will join us in these celebrations and fundraising events now and in the future.