Many kids grow up dreaming of becoming actors, astronauts or athletes someday.
But from a young age, Steve Brandt's aspirations looked a little different. 
"I always knew I wanted to be a financial advisor," Brandt said. "That's because I've always loved numbers and I've always enjoyed solving problems and working with people. I was that dorky finance guy who would dole out advice to my friends because I hated to see anyone making silly financial decisions."
Fast forward to adulthood and Brandt, now a Private Wealth Advisor and Certified Financial Planner with Panoramic Wealth Advisors, has turned his vision into a reality – and he couldn't be happier.
"When you help people achieve their financial dreams and you hear them tell you that they couldn't have retired or bought their first house if it wasn't for you, it's super rewarding," he said. "I feel blessed to be able to be part of my clients' lives in this way."
When Brandt meets with people for the first time, his focus is on getting a clear understanding of their current situation as well as their long-term goals so he can create a customized financial plan that fits their unique needs. 
"Everyone's scenario is different and it's my job to look at the resources that they have today and determine how I can help get them where they want to go in the safest and fastest way possible," Brandt said. "That's something that's very exciting to me."
Aside from talking about and setting financial goals, Brandt also does a lot of advance planning to ensure his clients are able to cover their expenses and maintain a positive cash flow should a "worst case scenario" such as a job loss, illness or a market crash occur.
"Being in this chair, you see the good, the bad and the ugly of all sorts of financial situations and that results in us being a little more conservative in the work we do for our clients," Brandt said. "We're always trying to look around the corner so we can protect them, their assets and their families."
Because Brandt is so passionate about helping others, it's no wonder that he was drawn to CrossFit SISU. He's been a member of the gym for more than five years and loves the positive, supportive community so much that he's returning as a sponsor for this year's SISU Summer Throwdown, which is being held June 24 and 25, 2022. 
"It's an awesome event," said Brandt, who will also be participating as a competitor. "They do a great job running it and it's just so much fun to hang out with your friends and do some fitness."
While Brandt's goal has never been to have every member of CrossFit SISU as a client, he enjoys being there as a resource for them should they decide they need financial guidance. 
"When it comes to your finances, you want to work with someone you know, like and trust," Brandt said. "I want to be that person and help in any way I can."
If you've been thinking about taking charge of your finances, here are a few of Brandt's thoughts to get you started:
Consider your goals: Financial advisors are excellent at helping people with this very important – but sometimes overwhelming – task. However, that's not to say you can't start thinking about your priorities on your own. Some questions to ponder include: Do I need to save money to help fund my child's education? Am I interested in building an investment portfolio and how aggressive do I want to be? Do I need to pay down some outstanding debt before I start investing? At what age do I want to retire? Do I see a first (or a second) home purchase in my future? Once you start fleshing out your answers, a financial advisor like Brandt can help create plans and strategies to ensure you're able to achieve your goals.
Find a financial advisor who has your best interests at heart: When hiring a financial advisor, it's critical to trust your gut. Be wary of anyone who makes promises that seem too good to be true, wants to charge you a bunch of money up front or tries to pressure you into anything that doesn't align with what you're trying to accomplish. "Some people call themselves financial advisors and all they want to do is tell you to invest your money or buy one of their products," Brandt said. "My firm looks at everything holistically and we operate under the fiduciary hat which means we're required to do what's in your best interests. That's something we take very seriously." Additionally, it's important to find an advisor you gel with because ideally, you're going to have a long-term relationship with them. "Not everyone who comes to me or to our team is a great fit for what we do. We're not here to make people rich overnight," he said. "We have a disciplined approach that we follow that will help people get rich over time and then stay rich. It's the same kind of mindset that is in place at CrossFit SISU – if you want to get better and stronger, it takes time, effort and consistency."
Don't be afraid to ask for help: With all the software that's on the market today, it can be tempting to try and come up with a financial plan on your own. However, when you consider how much time and effort it takes to stay on top of all the moving parts that come with financial and tax planning and investments – plus the high stakes involved – it makes sense to hire a professional. "Like a coach at the gym helps you get a better workout, I'm the coach with your finances to help you execute and do better than you would on your own," Brandt said. "It's all about providing guidance and accountability."
Recognize that it's never too late to plan for your financial future: Brandt often talks with people who have thought about working with a financial advisor in the past but never followed through. "They'll come in very apologetic that they haven't come in sooner and they feel like they're behind," Brandt said. "That's something I hear all the time." But in Brandt's experience, it often takes a trigger such as turning 50 or losing a job to truly motivate people to take the next step. "In my 20 years of doing this, I've learned that you can't force someone to start tackling their finances until they're ready," he said. "Once they are, we're here for them and we'll figure out a plan together."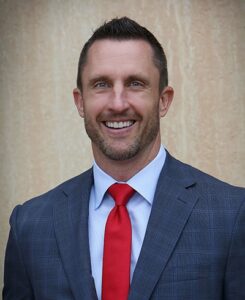 And if your plans involve an early-morning workout at CrossFit SISU, Brandt has you covered there as well.
"I go to the 5:30 a.m. class every single day during the week," he said. "I just love showing up and seeing the faces of the people I know – it's really become like a family to me."
---
Based in Minnetonka, MN, Panoramic Wealth Advisors is a private wealth advisory practice of Ameriprise Financial Services that provides comprehensive financial and tax planning and investment advisory services. To learn more about how they can help you achieve your financial goals, click here.