Jeff Salzbrun is someone who always roots for the underdog. Someone who believes in second chances. And someone who never shies away from a challenge. 
Because of his tenacity and grit, he's been able to thrive in the competitive field of commercial real estate. However, growing up in a blue-collar household and joining the Army right out of high school meant that his path to success would look a lot different than many of his industry peers. And that he'd have to work even harder to turn his dreams into realities.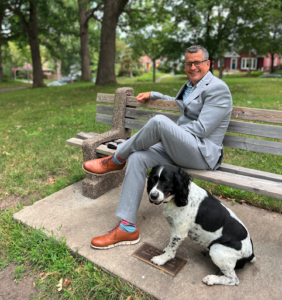 "This is very much a silver spoon business and a lot of people in it come from wealthy families," said Salzbrun, the owner and broker of Minneapolis-based Commercial Equities Group. "My background isn't the same, but now I'm one of the only veterans in commercial real estate who works on the bigger deals and I've become really ingrained in the brokerage community in town."
To learn more about how Salzbrun got started, let's rewind to the early 1990s. After spending several years in the Army and living overseas in Germany, he returned to Minnesota eager to pursue his goal of getting into the business world. However, first he had to get a degree so he began taking classes at St. Cloud State University. It wasn't the easiest transition, but Salzbrun was determined to tackle it head on. 
"Coming out of the military and going straight back to college was a huge ordeal in and of itself," Salzbrun remembers. "But while I was there, I got extremely lucky and met one of the greatest mentors and all these years later, he's still a mentor to me."
He would work alongside that mentor, John Allen, the president and CEO of Industrial Equities, for 20 years. Under Allen's tutelage, he gained a deep understanding of every aspect of the commercial real estate business.
"I was introduced not just to the acquisition side but also the leasing, the development and the management side. At such a young age, I was getting such tremendous insight into the business," Salzbrun said. "Interestingly, though, a lot of my buddies had ended up at some of the bigger CRE companies in town and I thought 'they're probably in some specific training and I'm missing out.' But in actuality, I was surpassing them because I was getting more thrown into the fire of the business."
During his time at Industrial Equities, Salzbrun helped put up millions of square feet of commercial space, continued learning all the ins and outs of the business and eventually worked his way up to vice president of leasing and development. In 2010, with Allen's blessing and support, he started Commercial Equities Group. He immediately partnered with another company but when Covid hit, he decided it was time to take CEG and run with it. And the response was overwhelming.
"It was then that I realized how much the seeds I had planted throughout my career had paid off," Salzbrun said. "That so many of my clients followed me and continue to follow me and seek me out for advice has been incredible. It has reassured me that I have in fact actually learned something in this business and it's been wonderful to have the opportunity to help so many people out."
Being able to provide guidance and assistance to people of all backgrounds during their real estate transactions is why Salzbrun is passionate about what he does, and even after more than 30 years in the industry, he's still excited to come to work every day.
"I love challenging deals and doing whatever it takes to help my clients," he said. "And I'm really good at what I do."
Having been in the business world for such a long time, Salzbrun has plenty of advice to share with other aspiring entrepreneurs and has mentored a number of people over the years. Here are a few of his thoughts and suggestions:
The early bird gets the worm: With so much going on in our lives these days, it's easy to find ourselves running out of time to accomplish our plans. That's why Salzbrun recommends getting up as early as you can to get a head start on the day. "Even if you have three kids, get up, get out of bed and get moving," he said.
Read voraciously: When you find a topic that you're passionate about, get your hands on as many books as you can and dive in. Perhaps you can use that early-morning time to get some reading done!
Find a coach or mentor: "People limit themselves so much in this world," Salzbrun said. "Having someone to push you can definitely help you break through those barriers." Not sure where to find a mentor? "I always jokingly say go hang out on the golf course," he said. "Even if you don't golf, I just think that people who have extra time and money are going to be at the golf course."
Think about the birds you're flocking with: Take some time to look at the people you're surrounding yourself with on a day-to-day basis. If they're holding you back or dragging you down, it's probably a good idea to reevaluate those relationships because they can prevent you from moving forward. "It's not about money," he said. "It's about consistently trying to improve and become a better person. That takes work, but if you don't start creating self respect, you're never going to become anybody." One tangible practice you can easily begin putting into action is to be mindful of the world around you. If you see a piece of trash on the ground, pick it up and throw it away. A pair of shoes left in the living room? Put them back in the closet. "Once you start with the little things, you'll find yourself wanting to keep going," he said. 
Abra Kadabra Environmental Services is proud to share the wisdom of business owners from our community through our thought leadership series. If you'd like to be featured, click here.